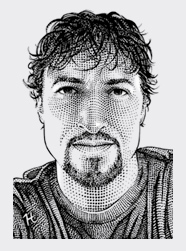 Chachi was born in Lima, Peru, and grew up in the suburbs of Denver, Colorado. He was raised with the best of American culture of the era: Star Wars, G.I. Joe, Lego, Transformers, 80's pop music, and of course, comic books; as well as the best of Peruvian culture: Spanish, ceviche, beef-heart kabobs, a soft drink that looks like urine after taking a few thousand milligrams of vitamin C, and throwing heavy coins at a brass frog (don't ask).
While in college, Chachi began his foray into the world of comic book art as the inker of Lords #1, a comic so profoundly successful that Lords #2 never hit the shelves. However, the book did lead to several opportunities and connections around the periphery of the industry, where Chachi has routinely dabbled ever since.
After graduating from the University of Colorado with a degree in Architecture, he promptly started working as a starving freelance illustrator in his parents' basement. Work as an illustrator eventually led to work as a designer, and Chachi has continued in both fields to this day, although no longer in his parents' basement. Chachi works in a variety of media depending on the project, including pencil, pen & ink, marker, watercolor, acrylic paint, and digital. He also works in a variety of styles, from Comics and Cartoons to Fantasy and Architectural.
Chachi married the love of his life, Carmen, in 1999, and together they live blissfully in Littleton, Colorado amongst the clutter that comes with five children. He enjoys playing soccer, reading, watching movies, and writing about himself in the third person.
History of published work:
Lords #1, 1993; Legend Comics
Lords #2 (unpublished), 1993; Legend Comics
"Joe Comics vs. Trend", May/April 1994; National Lampoon Magazine
Love is Layers of Sharing, 1995; Read Your Baby series
Playing is Learning, 1997; Read Your Baby Series
"Joe Comics" (2 comic strips), 1997; New Comics
"Love Lies Bleeding"; Steffenhagen Pub.
Marvel Creator's Collection (sketch cards), 1998; SkyBox
"Night Attack!", 1999; Clubhouse Magazine
"Riot!", 1999; Clubhouse Magazine
"A Sword and a Prayer", 1999; Clubhouse Magazine
"A Time to Run", 1999; Clubhouse Magazine
"A Not So Silent Night", 1999; Clubhouse Magazine
Maidens, 1999; SQP
Story Illustration, 2001; CSU Alumni Magazine
Heaven And Earth RPG (scene illustrations), 2001; Guardians of Order, Inc.
Maidens Vol.2, 2002; SQP
CiCi #2 (alternate cover inks), 2002; Spilled Milk
Holy Lands RPG Game Manual (character illustrations), 2002; Faith Quest Games
Holy Lands Light Edition Game Manual (character illustrations), 2003; Faith Quest Games
Holy Lands Devil Hunter's Manual (character illustrations.); Faith Quest Games
Business Builder Bible v.1-4 (chapter illustrations), 2003; Grossmann Enterprises
Age of Mythology Board Game (card art), 2003; Eagle Games
Fantasy Imperium RPG (chapter illustrations), 2005; Shadowstar Games
Holy Lands Adventure Packs (scene illustrations), 2006; Faith Quest Games
Honey, Who Stole the Kids? (interior illustrations), 2006; Action Publishing
Superman Returns Movie Adaptation (background assist; uncredited), 2007; DC Comics
Marvel Masterpieces (sketch cards), 2007; Upper Deck
Joe Comics (8 page story), February 2008; Zuda Comics
Women of Marvel (sketch cards), 2008; Rittenhouse Archives
Joe Comics (2nd 8 page story), July 2008; Zuda Comics
Femforce Card Set, Madam Boa base card, 2010; Sadlittles.com
Femforce Card Set (sketch cards), 2010; Sadlittles.com
Marvel Heroes & Villains (sketch cards), October 2010; Rittenhouse Archives
Marvel Greatest Heroes (sketch cards), March 2012: Rittenhouse Archives
Doomsday: The Artists' Perspective, 2013
Marvel Dangerous Divas 2 (sketch cards), December 2014: Rittenhouse Archives